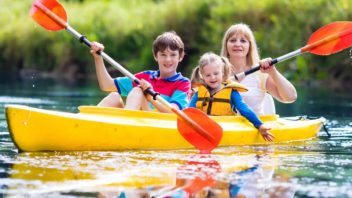 Embark on a self-guided, multi-day or one day adventure! You may rent single or double Ultimate kayaks with necessary boating equipment from …
Book Rental
Fully guided tours around 35 acres of uninhabited, mangrove covered islands. Expect to find a diverse population of coastal birds including Ospreys, …
Read more
Our
Ultimate Kayak Tours and Rentals
offer family-friendly, safe, and fun kayak and stand up board rentals and tours in the greater Sarasota area, including tours in Lido Key, Siesta Key, Longboat Key and Celery Fields.
Our Ultimate Kayak adventures are customized for all ages and skill levels, physical conditions and interests. These tours are family-friendly, safe, educational and most importantly, a FUN time for YOU! Our tour guides are fully-certified and are experienced in Florida's natural ecosystems and waterways.
---
Excellent place to rent kayaks. Very organized and informative. You will not be disappointed with the kayaking. If you enjoy kyaking and wildlife with hidden treasures, this is the place. Vince was also, very informative and helpful with surrounding places to eat, shop and extra adventures. It's so nice to be from out of town and have someone such as Vince that is so knowledgeable taking the time to make this part of a memorable trip. Definitely will be back.
We had such a great time kayaking with Ultimate Kayak SRQ we went back a few days later and rented SUPS. Vince made our tour through the reserve very interesting and knew right where to find all the wildlife. He's fabulous and his equipment is brand new and top notch! We highly recommend Ultimate Kayak SRQ. We'll be back!
3 of us took a Mangrove tunnel tour with Vince out of the Jim Neville Marine Preserve. Great guide, patient with a newbie in the group and full of local information and legend. Boats were in great shape and we could not have had a better trip.
Vince accommodated my family and I, including our border collie for a last minute planned kayaking adventure. He showed us where to go and all the wildlife to look for. It was a blast! My visiting family had an amazing time. Much thanks to Vince and UltimateKayakSRQ! Can't wait to bring my friends next time. Highly Recommend!